A FEW WORDS FROM THE ELDERS
The Winfield Church of Christ is a close-knit community of Christians devoted to God and His teachings. We believe that being a true disciple involves submitting ourselves entirely to our Father's will and living as a sacrifice that is pleasing to Him.
As we continue serving the Lord, we are reminded of the many blessings we receive daily. As elders, we encourage all families to attend Bible classes and worship services and encourage each member to find joy in their devotion to God.
We ask that you keep everyone who contributes to the success of our ministry in your prayers and that you pray for our church family to continue to be blessed and faithful to God's purpose. Remember that you can make a difference in the Kingdom of God each day.
In Christian Love,
The Elders
A Brief History of The Winfield Church Of Christ

 
According to the Alabama Restoration Journal, the Winfield Church of Christ was founded during the 1880's by traveling evangelists, Joseph H. Holbrook, Jeremiah Randolph, and his son Virgil Randolph.
In 1895, Elisha Vickery donated the property located just east of the present-day City Hall. This is where the first building stood. This became the first recorded official Church of Christ in Winfield, Alabama. A wood frame store building of white planks occupied the property at that time.
In September of 1895, C.A. Wheeler held the first meeting in the building, and Mrs. Newt Whitehead was the first to be baptized. The first appointed elders were Elisha Vickery and Tom W. Smith. The first established congregation consisted of the following members: C.A.Wheeler, Elisha Vickery, Tom W. Smith, J.B. Whitehead, Sterling P. Smith, Newt Whitehead,
F.T. McCollum, H.C. McCollum, Martha C. Vickery, Rebecca E. Whitehead, Della Whitehead, Joseph M. Whitehead, Dora Whitehead, Katie Smith,
J.B. Vickery, Leah P. Vickery, Aughtie Aston, Mollie Aston, Caroline McCollum, Rosa Belle Vickery, Mrs. L.A. Smith, Frank Allen, J.W. Haney, Mattie Earnest, and H.C. Holcomb. Mr. Wheeler served as minister until 1902.
G.A. Dunn served as minister from 1903-1906.   John A. Hudson served from 1907-1908.   Willie Lloyd served from 1909- 1913. History is unclear as to whom may have preached from about 1913 to 1928, a period of 15 years.
In 1928, Chester Estes became minister of the Winfield Church of Christ. It was during his tenure (1933) that a new brick building was built to replace the old plank building. He was minister until 1937.
J.O. Jones became the next minister of the Winfield Church of Christ in 1938 and remained until 1943. During this time in 1940, Sterling Pate was appointed as an elder. He was vey active in all aspects of the church. He and his wife, Ethel Burgess Pate, remainedactive members until their death.
In 1944, John McClesky came to serve as minister. In this year, land adjoining the original church property was bought and a preacher's home was built.   The McClesky family was the first to occupy the new parsonage. He continued to preach at Winfield until 1947. Jimmy Faulkner followed him and worked here 3 years. W.S. Thompson worked with the church for 2 years and taught in the high school. Curtis W. Posey came as minister in 1952 and served for a period of two years. Ferris Harvard preached from 1953 to 1954,
a period of one year.
The Marshall Wyers family came in 1954 and preached until ill health caused him to retire in 1967. During his tenure a fire destroyed the downtown church building. Property was acquired and the current building was erected as it stands today. Dedication services were held on May 4, 1958. Later in 1975 an educational building was erected, followed by a fellowship room and additional classrooms in 1986. Marshall Wyers was minister for 14 years. He also served as elder for most of his tenure.
Following the erection of the present church building, ministers who have served include: Bryan Howell (1968-1971), Lomax Green (1971-1972), Steve Pope (1972-1973), Kenneth Bray (1973-1975), Bill Cox (1975-1982), James Wyers (1982-2018), and Mark Posey (2018-present).
Methods of teaching have gone from the Bible only to include the use of lesson quarterlies, commentaries and power points for the adults. The children's classes have gone from a simple lesson to books, puppets and other visuals. Many other outward changes, including the 2018 building renovation, would be obvious even to the casual observer. However, in spite of human imperfections, the congregation has remained true to the idea of commitment to simple New Testament Christianity and is currently active in many good endeavors to spread the gospel and do good unto all.
We owe a great debt of gratitude to those pioneers who have paved the way for us to enjoy the fruits of their labors and warm by fires we did not build. Truly, "their works do follow them."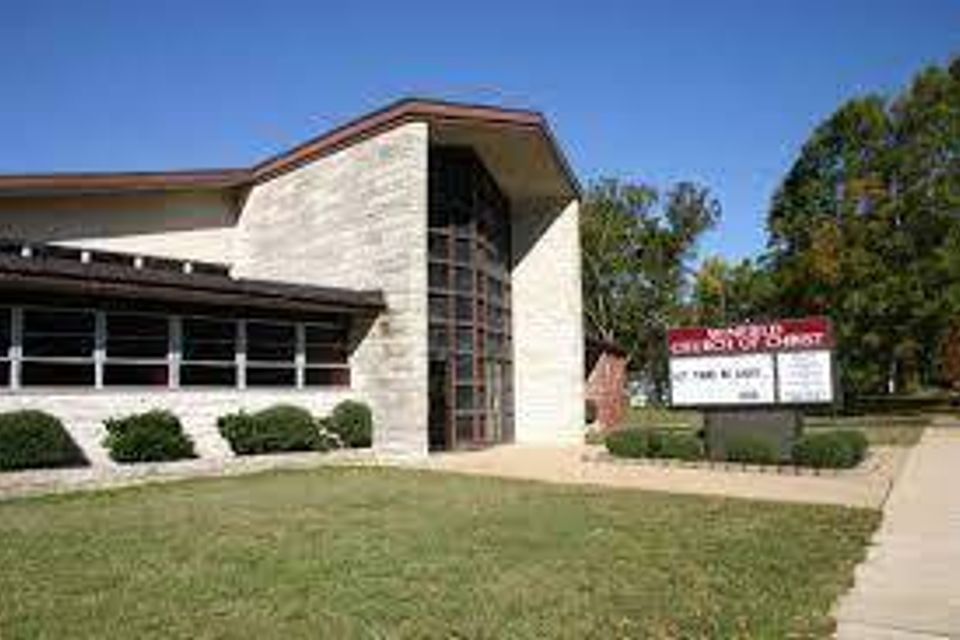 Love must be sincere.

Hate what is evil; cling to what is good.

Romans 12:9